FIRST EVER WOMEN'S LABELLED PICKLEBALL CLOTHING LINE IN THE WORLD
All prints are copywritted
Hello Bella!
Combining our hand painted one of a kind prints with high quality fabrics, we offer apparel that's beyond comfortable, extremely functional and a work of art! We've designed our styles with features you're sure to appreciate, both on and off the courts. Be a Bella, let everyone know your game and  'ALWAYS PLAY IN STYLE'.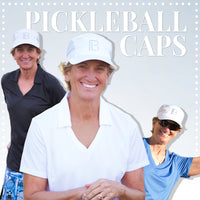 Embroidered Pickleball Caps
Our embroidered pickleball caps provide stay put sun protection and adjustable velcro sizing. Made of lightweight, breathable wash and wear fabrics, it's a favorite on and off the courts. Shop our caps today and coordinate them with any and all Pickleball Bella skort collections!
Shop Caps
New In - Groovy Collection
Our Groovy Collection is a blast from the past! With peace signs, mushrooms, hearts, and a psychedelic theme throughout, this print is as fun as the era it was designed after.
Shop Product
This section doesn't currently include any content. Add content to this section using the sidebar.